See that?  That's me being funny.
I'm excited to be going back to work part-time in November (so soon!), although pumping breastmilk in anticipation of this event isn't exactly how I want to be spending my free time.  I've been trying to do it every day during the week for 15 minutes.  I realize how busy I must be, when I find it challenging to get a nice 15-minute block to accomplish this.  But so far, I have a few bags of milk stored up in the freezer.  This week's efforts will feed Emery for one work day.  One.  Holy hell, how I am going to do this?  I guess the blessing is that it's only 2 days each week, and by the time I go back to work, E will be nearly 7 months and he will have started solid food by then.
Holden has started his new school year at the EJRP Preschool where he went last year.  There are some familiar faces and some new ones.  He even has some new teachers (we were heartbroken to find out that one of his preschool teachers who also doubles as our babysitter left the preschool to go back to college).  No more date nights for us:(  But so far, H seems to be having a great time at preschool, and he is loving the 3-day per week routine compared to the 2-day per week routine that he had last year.
Here he is on his first day of preschool for the year:
And of course we couldn't resist a picture with his adoring little brother: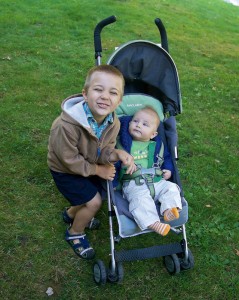 H is so much more mature this year than last.  I'm sure it will be a wonderful last year of preschool for him.  Then off to the elementary school next year for kindergarten!  Yikes!